For the pastry-obsessed, there are few things in life more satisfying than a beautifully decorated cake. If you want to wow everyone the next time you're in charge of dessert, a well-designed cake is the way to do it. Here are a few tips and tricks for making a carefully constructed confection that's sure to impress:
Firm Foundation
Before you start decorating your cake, do a little bit of preparation. All of these small pre-decorating steps will make the process much easier (and the cake even tastier). Once your cake is finished baking, let it cool completely. Trying to decorate a warm cake will be a frustrating and fruitless process—the heat makes the frosting weird and runny so it won't stick properly.
Another way you can get yourself off to a good start is to make sure your cake has a flat top. It will probably come out of the oven with a rounded top, but that's not a problem—simply use a bread knife to cut off the rounded bit. You can make sure you're cutting evenly by leaving the cake in its tin for this process, and using the tin as a guide.
Once you've removed the top, use a pastry brush to apply a light coating of simple syrup to the top. Simple syrup is super easy to make—boil equal parts water and sugar until the sugar is fully dissolved—and it will keep your cake nice and moist. This is an important step, since the decorating process has the potential to dry your cake out otherwise.
Crumb Coat
"Crumb coats give your cake a smooth, finished look."
Giving your cake a crumb coat is one of the quickest and easiest ways to make sure it turns out looking great. This is a base layer of frosting that seals the crumbs onto the cake so they're not visible in the final product. This step may seem a bit redundant, but it can make all the difference—crumby frosting isn't particularly pretty, and this step will give your cake a smooth, finished-looking surface.
If you're making a multi-layer cake, you'll need to do this for each layer. (If your cake is a single unit, you can go ahead and skip down to the next paragraph). Drop a generous portion of frosting onto the top of your first layer. Use a frosting spreader to evenly distribute it across: You should use enough frosting that you have a thick layer on top that oozes over the side a bit. Place your next layer and repeat until the cake is roughly constructed. Use your spreader to spread the excess frosting between the layers onto the side of the cake.
Again, drop a generous amount of frosting onto the top of your cake and spread it evenly across. Fill in any gaps that appear as you coat the cake. If your layers start to get wobbly, or your frosting starts getting too runny, stick it in the fridge to cool for 10–20 minutes. This should firm up your frosting and make the whole thing easier to work with.
Once you've evenly distributed your crumb coat, use a scraper to make the surface nice and smooth. Start by going around the cake, then leveling off the top—you may have to do this back and forth a few times before it's really perfect. Once you have a smooth crumb coat, let the cake chill in the refrigerator for at least 30 minutes. After the cake has chilled, you can put on your final layer of frosting or fondant and, depending on how you're decorating your cake, this is the layer you'll show the world. Use your spreader and scraper to make sure it looks just right.
Watch the entire process with Layer Cakes 101.
Piping Practice
All of the best cake decorations come down to your piping technique. Like any other form of art, this means you might need some practice. Go easy on yourself if it doesn't look right the first few times—as you get more used to working with your piping tools, you'll get better, and your cakes will look nicer.
Seven different piping tips in the Pampered Chef Decorating Bag set will create different effects. The small writing tip is perfect for lines and writing. The large and small open star tips make adorable rosettes, and a flat tip is perfect if you're creating a ribbon effect with your frosting. Practice creating lines and dots with different tips on wax paper to get a feel for how the end product will look.
Different piping tips will create different effects. Round piping tips are perfect for lines and writing. Star tips make adorable rosettes, and a flat tip is perfect if you're creating a ribbon effect with your frosting. Practice creating lines and dots with different tips to get a feel for how the end product will look.
Adorable Accents
Finally, you don't need to rely on frosting alone to make your cake look great. Sprinkles, candies, and fruits all make for perfect additions to the tops or sides of your cake. Experiment with different ideas. Want something fun and colorful for a birthday boy or girl? Coat the cake with his or her favorite rainbow cereal.
Fresh fruit can be a simple way to make an utterly gorgeous cake. Evenly frost your cake, then top it with fresh berries. Strawberries, raspberries, blackberries, and blueberries all look (and taste) great together. You can place them on top in circles starting from the middle for an organized look, or you can have them scattered about for a casually pretty look. Once you have them placed the way you like, use your sugar shaker to gently dust the whole thing with powdered sugar.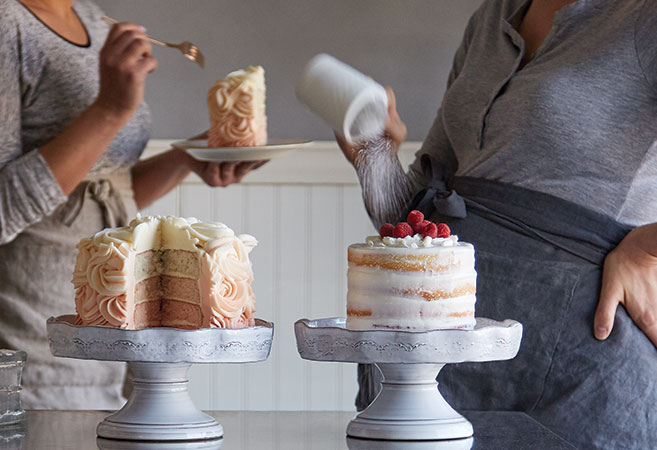 No matter how you're decorating your cake, remember that practice makes perfect. If you're in charge of a cake for a special occasion, do at least one trial run beforehand. This will give you a chance to notice any hiccups along the way. The best part about cake rehearsals—if the cake looks off on the first try, it doesn't really matter, and you get to eat cake!