Waiting until the last minute to pull together a holiday feast is for those who like to live dangerously. A checklist, advance planning, and the right tools will let you greet the holiday season feeling prepared and confident. This countdown to Thanksgiving gives you a simple idea each day to help you get ready for the big feast. You can apply this countdown to large gatherings you host any time of year.
Day 1
Invite your guests. Send an email out this week for a general head count so you can start a menu plan.
Day 2
Start gathering your recipe ideas. Why not start a new side dish tradition with Savory Mashed Root Vegetables? You'll need the trusty swivel-action blade Vegetable Peeler for all your veggie side dish plans.
Day 3
Have a tear-free holiday season. The Food Chopper tackles onions in seconds. Get one now, so you're ready for all your veggie prep.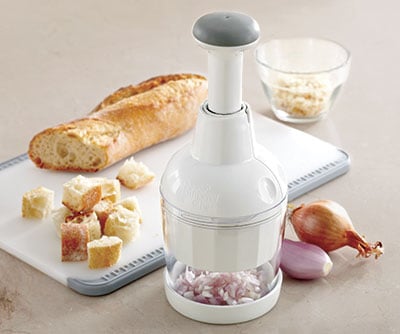 Day 4
Florists get busy right before the holidays, so place flower orders now.
Day 5
Make a playlist. Cue up your favorite tunes that evoke sweater weather, home, and gratitude. Consider some rootsy, acoustic background music or golden age big band jazz.
Day 6
Plan your beverages. Have plenty of choices for the kids and consider a signature cocktail for the grown-ups. Stock up on a few Family-Sized Quick-Stir® Pitchers to serve them in style.
Here are some basic rules to keep in mind for about 25 guests:
2 gallons of lemonade, punch, or tea if alcohol is being served.
4 gallons of lemonade, punch, or tea if alcohol is not being served.
2 alcoholic drinks per person for the first hour and 1 drink for every hour after.
1½ lb. of ice per guest.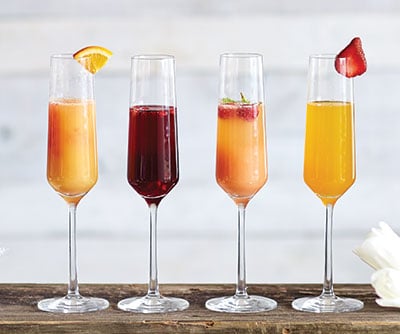 Day 7
A well-stocked kitchen and quality tools will make holiday meal prep much easier. Here's a list of essential kitchen tools and pantry staples you'll need to get holiday meals on the table without the fuss.
Day 8
This week, decide what menu items you can make ahead of time and freeze. Soups and casseroles are good candidates. Leakproof containers will be your holiday BFFs before and after the big meal.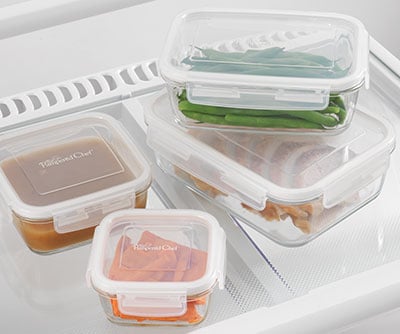 Day 9
Decide on side dishes. Will you go traditional or get inventive with dishes that will surprise and excite your guests?
Traditional:
Fresh Take:
Day 10
Consider vegetarian options for your menu.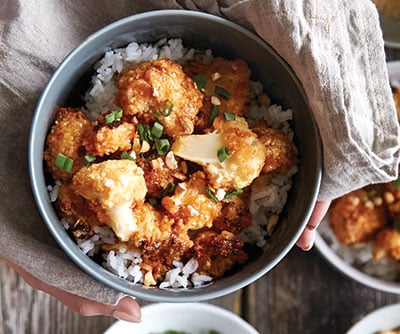 Day 11
Use the Mix 'N Masher to get a smooth consistency from your favorite mashed potatoes recipe. You can even make them now and freeze them.
Day 12
Plan your desserts. Plan on a 3-inch wedge (⅙ of a 9-inch pie) for each guest. Stock up on dessert-making must-haves like Batter Bowls for mixing, Stackable Cooling Racks to save counter space, and a Pastry Blender for the perfect homemade pie crust. Here are 10 tips to avoid most common pie-baking problems.
Day 13
Plan an activity for kids to keep them occupied while you prep next week.
Day 14
Get crafty with pumpkin candle centerpieces you can make using The Corer™.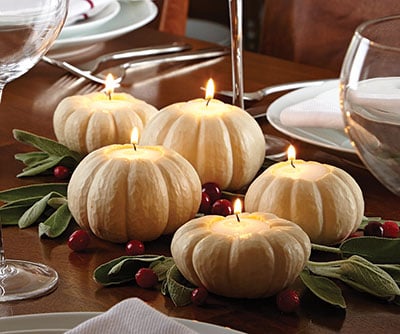 Day 15
Decide how you're going to prepare your turkey. Brine? Roast? Deep fry? Make sure you have Meat Lifters to get your turkey safely to the table.
Day 16
Turkey Thawing Tips: Refrigerator thawing will take 24 hours for every 4 lb. of turkey. Put your whole turkey breast up on a Large Baking Sheet. An 18 lb. turkey will take about five days to thaw in the fridge. Once thawed, that bird can stay in your fridge for four days before cooking.
Day 17
Basting Tip: Give the bird a one-time greasing with the Baster, then roast without peeking. The more you open the oven door, the longer the turkey takes to cook!
Day 18
How do you know when the turkey is done? After about three hours in the oven, insert an oven-safe thermometer deep into the thigh without touching the bone. Start checking the turkey for doneness about 30 minutes before the recommended cook time. Your turkey is done when the temperature reads 180°F in the thigh and 165°F in the breast or stuffing.
Day 19
Use the weekend before Thanksgiving to clean the house and clean out your fridge. Three Everyday Cleaning Cloths outlast 15 rolls of paper towels.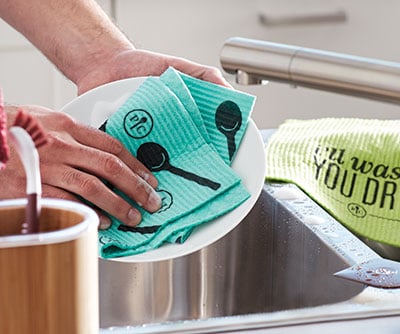 Day 20
Write your holiday grocery list and get to the store. If you forget something, you'll have a few days to run back out and get it.
Day 21
Assemble and bake your pie in a beautiful stoneware pie plate. The stoneware draws moisture away from the food so baked goods turn out light and crispy.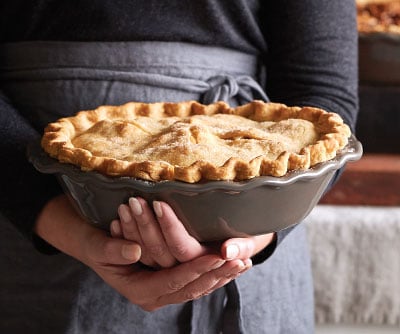 Day 22
Iron your tablecloths. Wash your formal serving dishes and pre-set the table. (Hint: Turn the glassware and plates upside down to prevent dust from settling on them.)
Day 23
Chop, chop, chop. Prep as many fresh ingredients as you can. You'll be giving your knives a workout, but luckily the Large Grooved Cutting Board will protect your countertops and the high-density polypropylene material helps prevent knives from dulling.