Holiday cookies can be fun to make, well-decorated, and delicious. With great dough recipes, frosting ideas, easy shapes from cookie cutters, and artistic decorations, your cookies will be the star of the holiday table. With a little time, you can make cookies that look like these!
A creative, tasty cookie starts with a great dough. Sugar cookies are crowd pleasers, and make a great canvas for icing and decorations. Try our sweet, buttery Shortbread Sugar Cookies for an easy start to your cookie creations. 
For fall and winter holidays, try our Gingerbread Dough. 
If you want to go even simpler, there are plenty of things you can do to spice up store-bought dough:
Turn refrigerated sugar cookie dough into gingerbread with a few simple twists with this recipe for Easy Gingerbread Cookies.
A little bit of lemon or orange zest goes a long way to brighten up cookie dough for any occasion.
Give dough a colorful tint with a bit of food coloring.
Try different extracts like maple or coconut, or sprinkle in spices like cinnamon or cardamom to flavor your dough. 
Cookie Icing
This icing makes a smooth and shiny top for your cookies. You can spread, pour, or drizzle our
All-Occasion Cookie Icing
on top of your cookies for a unique appearance. There's no need to get your mixer out for this recipe!
Get the Look
Achieve this marbled cookie look by pouring a base color of icing over the cookie. Add a drop of another color, and then swirl the colors together by gently dragging a toothpick to get your desired look!
Buttercream Frosting
You can't go wrong with buttercream—it's a classic for a reason! Because buttercream is thicker than cookie icing, you can get lots of texture with it. Spread or pipe on designs using a piping bag, or use buttercream as a glue to stick sprinkles or candies on.
Get the Look
Use an offset spatula or spreading knife to spread a layer of frosting over the cookie. Sprinkle sanding sugar over the frosting. Then use a piping bag and small round tip to pipe the lines on top of the pumpkin.
Tip: Use different colors (or swirl them together) for each section of the pumpkin for an ombre effect.
Royal Icing
For intricate designs that will harden after setting, royal icing is the best choice. Work quickly, though—this icing sets fast!
Get the Look
Outline your cookie with white royal icing, then "flood" the inside until the entire cookie is covered. Before the white icing sets, draw a swirl pattern on top with black-tinted icing, starting in the center and working outward. Using a toothpick, start at the center point and drag it outward through the icing to the edge of the cookie. Repeat this process around the entire cookie until you weave your web!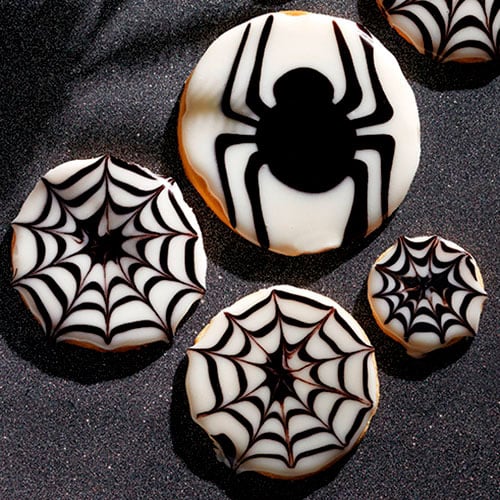 Add the Finishing Touches
Complete your cookies with decorations! Here are a few ideas to get you started:
Sprinkles
Add sprinkles before baking by pressing them into dough slightly to help them stick. They'll add a fun pop of color!
After cookies have baked and cooled, you can add any kind of icing or brush cookies with a bit of corn syrup to keep sprinkles on your cookies.
Chocolate
Use melted chocolate to drizzle or spread onto cookies, or dunk the cookies into it!
Candies
Top your cookies with candies to make designs or add color.
Use Cookie Cutter Shapes for Different Designs
Spice up your cookies by using our Stainless Steel Holiday Cookie Cutter Set for fun designs other than their intended shapes. 
A flower cookie cutter can make a variety of different cookies with a little bit of icing and sprinkles, like fireworks, suns, or lions.
Try using a heart cookie cutter to make ladybugs, bumblebees, or bride and grooms. You can even get creative and split the hearts in half to add ears to puppy cookies!
Pumpkin cookie cutters make a great apple cookie to add to your fall platter, or switch it up to something different and make a little elephant.