Cue the oompah music! Put on those lederhosen! The biggest fall festival in Germany, Oktoberfest, has a huge following in North America too. From Los Angeles to Wisconsin to Kitchener, Ontario, who can resist the joy of drinking beer out of a big stein and snacking on soft pretzels? Bring all the fall festivities to the comfort of your home with these easy party tips and tasty recipes.
Pretzels
A nice soft pretzel is so satisfying with crisp German beer. Stoneware is ideal for baking fresh, soft pretzels because you can make them party-sized for a crowd on a Large or Medium Round Stone. And stoneware draws moisture away from food so your Oktoberfest pretzels turn out light and crispy. Try Mini Soft Pretzels with Honey-Mustard Dip or go crazy with Pepperoni Pizza Stuffed Pretzels. Both recipes are super simple to make because you start with refrigerated pizza dough.
Twist up a beautiful soft pretzel in four steps:
Move the dough ropes to the center of the stone to begin making your pretzel.
Form one long rope by pinching together one end of each small dough rope.
Bring the free ends of the rope together to make an open circle.
Twist the free ends of the dough one time, then bring the twisted end toward yourself and fold it down onto the base of the pretzel.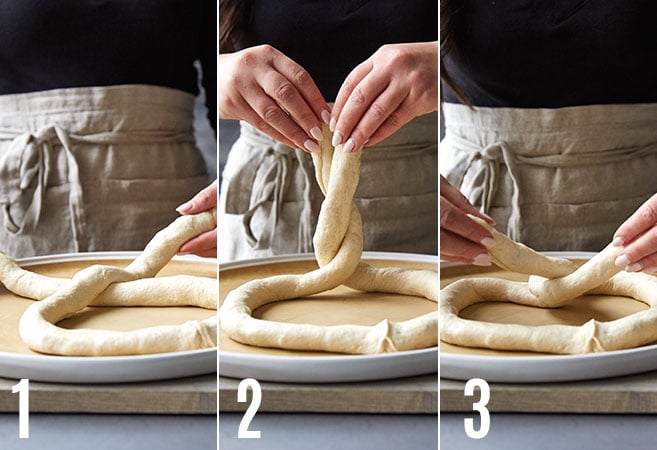 Sausage Recipes
The German sausage everyone is familiar with is the iconic bratwurst. Made of pork and beef, it's traditionally served with sweet German mustard. Try our Best Wurst cooked in beer. (It fits the theme!) You can make this dish on the stovetop or on the grill thanks to the versatile and grill-safe Rockcrok Dutch Oven®. This vessel can also cook Warm Cabbage Slaw as your brat topping.
Try serving comfort food recipes like Sausage 'N Sauerkraut Skillet or Harvest Sausage Casserole.
German Beer
Prost! Traditional Oktoberfest beers come from six Munich breweries. While it might be too expenseive to import authentic Oktoberfest beers, consider a select sample of brews from Hacker-Pschorr-Bräu, Hofbräuhaus, and Spatenbräu to start the party and then swap in your favorite domestic brews throughout the night. Or get fancy and serve up some unique beer cocktails like the Michelada or Bloody Beer.
Roasted Chicken
Spit-roasted chicken is synonymous with Oktoberfest. It permeates the air in Munich. Most of us don't have a rotisserie at home, but with the Deep Covered Baker or Rockcrock® Dutch Oven, you can roast a whole chicken in the microwave. No, it won't turn out rubbery.
These main dish recipes are delicious:
Crowd-Pleasing Dessert
Treat your Oktoberfest patrons to personal-sized Black Forest Brownies. With the Brownie Pan, everyone gets perfect chewy edges. You can top it with frozen whipped topping or impress your guests with homemade whipped cream by using the Whipped Cream Maker.
Quick Oktoberfest Decoration Ideas
Hang blue & white streamers from the ceiling and tables.
Fill empty beer bottles with white flowers.
String together little store-bought pretzels with lace ribbon to make pretzel garlands for your tables.