Everyone loves the outdoor patio at a lovely restaurant. Eating outside under a beautiful canopy in a mini oasis adds a special element to any dining experience.
You can bring that same special quality to your own outdoor space, and treat your family and friends to a cozy patio dining experience. And, you can do it on a small budget. Here's how:
Plan Your Space
Whether you have a deck, a cement patio, or a garden in your backyard, you can transform it into a space for cooking and entertaining. Establish a spot with plenty of shade. Decide what type of furniture you'll use and how much. Are you dreaming of an intimate space for four, or a casual entertaining space for ten or more guests? Will you want space for a grill or drink cart? Do you need access to outdoor electrical outlets?
Measure everything you want on your patio, and make sure you have enough space to meet your needs. Go ahead and sketch it out. Don't forget to leave room for people to walk around furniture pieces.
Design tip #1: Keep your eating space out of the sun. Take advantage of trees for natural shade. Yard umbrellas are a good alternative. Or, use a water-resistant drop cloth (with grommets) and some bamboo poles to make a quick, shady canopy.
Design tip #2: Create an instant cocktail lounge on your deck by rolling out a colorful, all-seasons rug. This can create a separate space for guests to gather for drinks before dinner.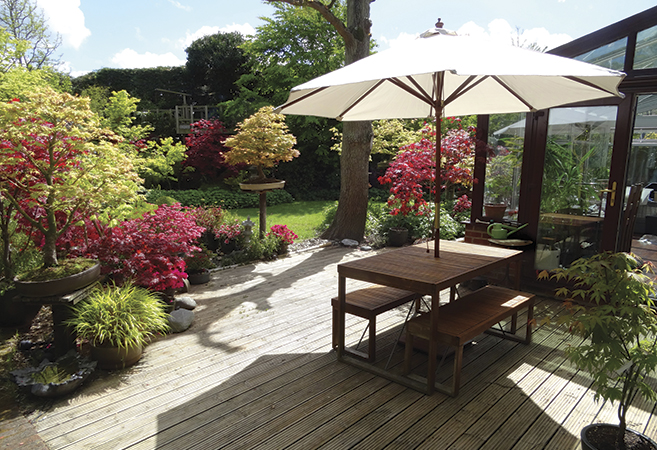 Pick Your Furniture
Embrace the repurposed, eclectic vibe of many urban cafés and save big on expensive patio furniture. First, search your home for items that can handle exposure to weather and bring a little indoor comfort outside. Or, scout thrift stores for mismatched furniture you can spray paint with a unifying color to create a cohesive look.
Design tip #3: Save on furniture so you can splurge on cushions. Mildew-resistant cushions are easy to clean and provide extra comfort and color for any patio.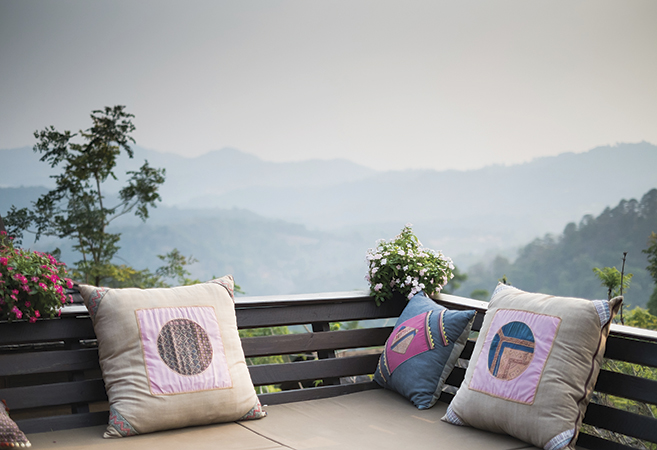 Create a Mood with Lighting
If you have access to outdoor electricity, that's perfect for hanging whimsical string lights from inside a deck umbrella or backyard awning. But, you can skip the electrical work and unsightly wires with candlelit lanterns. It adds extra romance and elegance to the humblest of patios.
Design tip #4: Create layers of light by placing candles at different heights with standing lamps, lawn torches, a hanging lantern, and votive candles. Hang a large candle lantern from a hefty horizontal tree branch over the dining space. It's instant lighting that brings the elegance of a chandelier with minimal cost.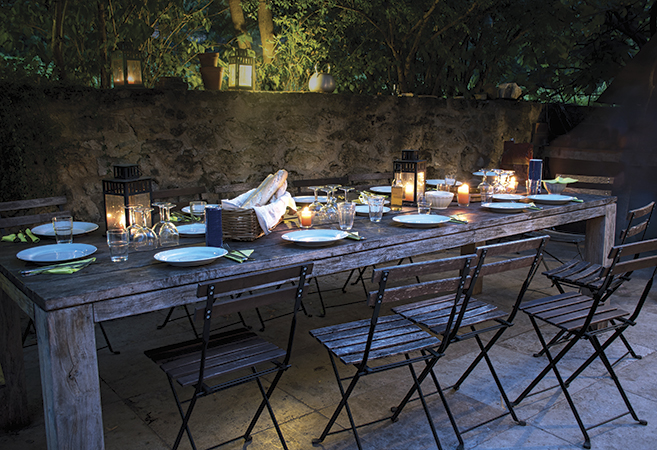 Make it Yours
Add little touches to make your outdoor space more inviting. Check out thrift shops for whimsical knickknacks, stools, benches, votive holders, or statues. You only need a few elements to make your space stand out.
Design tip #5: Use potted plants or garden boxes to hide unsightly areas of your yard like the air-conditioning unit.
Design tip #6: Hang a mirror on a garden fence or garage wall near the dining space. It feels like a window to a whole new place.