If you're not a foam hat-wearing, face-painting, sign-waving sports fan, that's okay. Thanks to tailgating, you can still fall in love with a day at the stadium.
Named after the door or gate on the back of a pickup truck, the tailgate, this pre-game tradition has turned into a festival of epic food displays, party games, and bonding time with friends. Food lovers can mingle among neighboring trucks, minivans, and hatchbacks to swap barbecue techniques or sample one-of-a-kind grilled desserts.
Ready to go pro and take your cooking skills to the big leagues? Here are some essential party-planning tips and recipe ideas to win your next tailgating event.
Have a Game-Day Strategy
Check your venue's website for their policies on alcohol, glass containers, types of food carriers, etc. Plastic cups and containers are usually a safe bet.
Plan out your entire menu—then divide and conquer. Ask your friends to be team players, and bring a specific dish or two to share.
Don't forget plates, napkins, utensils, ice, water, sunscreen, and trash bags for cleanup.
Choose Tailgate Menu MVPs
Prepare as much food ahead of time as possible. Don't forget to marinate meats the night before. Many foods (like corn or baked potatoes) can be cooked in advance and then heated up on the grill. Check out these tailgate menu ideas that will score big points with everyone.
Kick-off with appetizers
Serve two fan-fave drink options
Grill something fancy for the main event
Have a winning dessert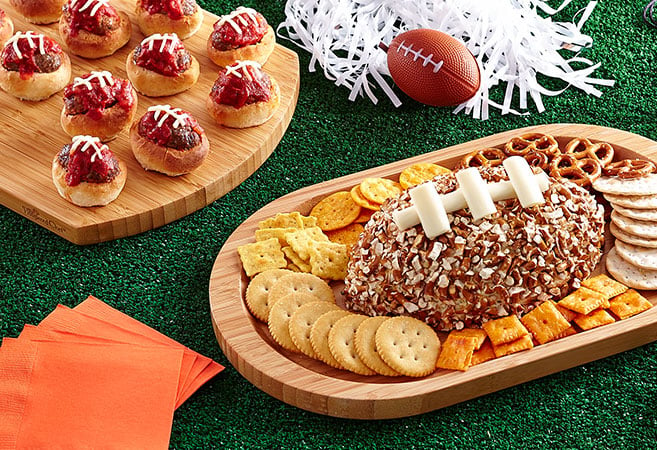 Arrive Early
Try to arrange for at least two cars to arrive together and park next to each other. When you get to the venue's parking lot, call your fellow tailgaters and let them know where you're located. Bring a few large, distinctive helium balloons to help friends find you easily in the crowd.
Have the Right Gear
It's important to keep food at the right temperature.
For transporting salads, cold pasta dishes, or burger and hot dog toppings, Cool & Serve trays are the perfect solution. Their cooling inserts keep foods chilled for 4–6 hours. Bringing them on game day is even easier with these foam-insulated carriers. Plus, you can customize them with several tray configurations.
For foods you want to keep warm, Rockcroks are a great solution. They're made of a clay material that retains heat. Plus, they can go on the grill to warm up chili or meatballs. Transport your Rockcroks in Keep It Hot Cookware Sweaters to keep your food hot up to twice as long.
Bring multiple coolers. One cooler should be designated specifically for meats. You'll also want clearly labeled coolers for alcoholic and non-alcoholic drinks so everyone can find what they want quickly.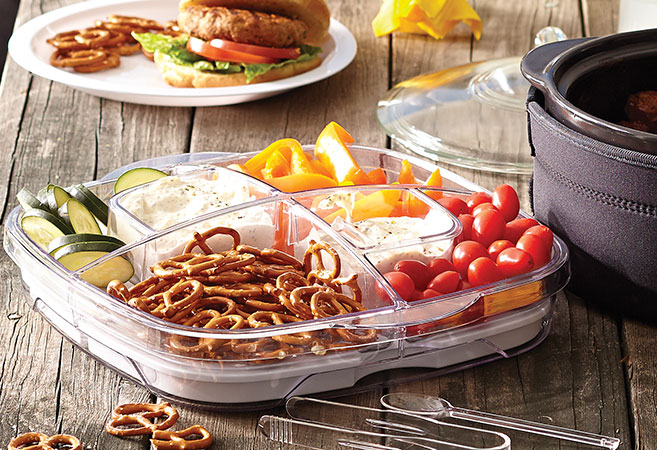 Tailgating Tools: Get Fired Up
If you'll be grilling, make sure to have all your grilling tools ready. Bring a small fire extinguisher and metal bucket with a lid to put out and store used coals safely. Here's a quick checklist of additional game-day gear you'll need: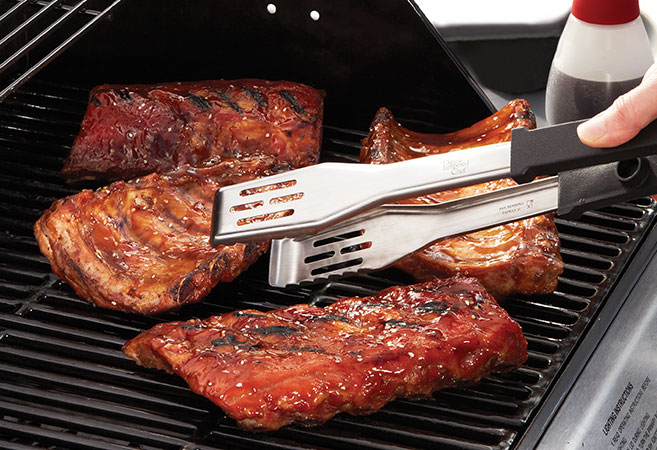 Be Ready for Anything
12 items worth bringing to your next tailgate party:
Hand sanitizer and/or wet wipes
Paper towels
Dish soap
A large plastic tub for dirty dishes
First aid kit
Plastic tarps
Blankets
Rain ponchos
Mini flashlights for the late games
Plastic zip bags
Permanent markers and masking tape to label food containers and coolers
Be a True Sportsman
Have tons of fun. Mix and mingle with your fellow tailgaters. Play some bag toss. Offer samples of your prized dieshes, and be proud of your culinary victories.
Give yourself enough time to clean up before the game starts. Or, if you want to keep the party going, turn up the radio so the sports fans won't miss a minute of the action.