What's more satisfying than taking a big bite of a juicy burger? The savory cheese, the crunchy, briny pickles, the tangy mayo…is your mouth watering yet?
And what's most wonderful about burgers is they can be as unique as the people eating (or cooking) them. It starts with the perfect-sized patty. Mix up your classic beef burger with other meats like chorizo or bacon pieces before grilling it.
Or, skip beef altogether. Salmon patties are a healthier alternative to traditional burgers. And, they can be just as indulgent when you build the burger with toppings like wasabi mayo and Asian slaw.
There's no denying ketchup and mustard on a hamburger is a simple classic that can make you feel like a kid again. But it's so much fun to deck out your burger with layers of complex and surprising flavors.
Ultimately, there's no wrong way to build a burger. Here are three Pampered Chef burger recipes deconstructed for easy, at-a-glance creative burger assembly. Get stacking.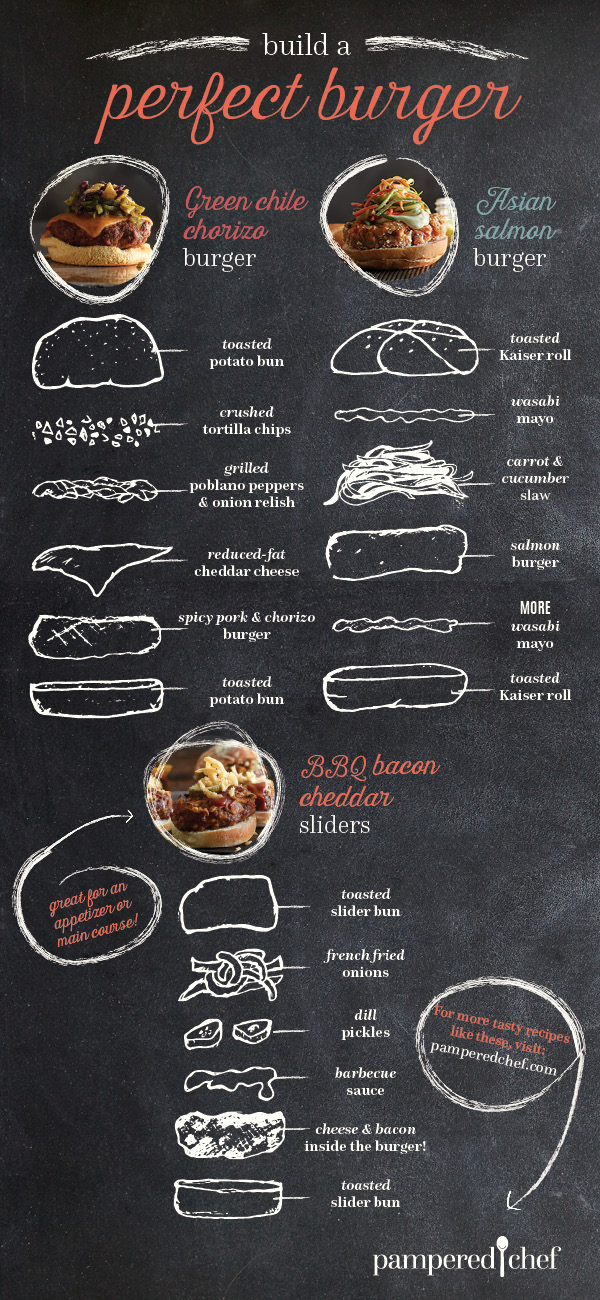 Get all three complete recipes here:
Green Chile Chorizo Burgers | Asian Salmon Burgers | BBQ Bacon Cheddar Sliders
Read More About Burgers:
QUIZ: What Kind of Burger Are You?
The Ultimate List of Burger and Hot Dog Toppings