Grilling is just as versatile as any other way you cook, and you can grill just about anything you can cook indoors. Grilled fruit is especially delicious because the natural sugars caramelize, making them extra sweet. 
Try changing the burger and hot dog routine and grill nachos or polenta instead. Then make grilled pineapple your go-to dessert. See our list of grilling recipes that will change the way you think about backyard grilling forever.
Crowned one of the best vegetables to cook with by top chefs, doctors, nutritionists, foodies, and home cooks alike, cauliflower is a blank slate with great texture. You can do pretty much anything with cauliflower. When cut into large slices and given a good char, it becomes tender, smoky, and (dare we say it) almost steak-like. Just brush the cauliflower slices with 1 tbsp of oil and sprinkle with salt and pepper to taste. Place them on the grill and cover for 25–35 minutes, turning frequently, and they're ready to go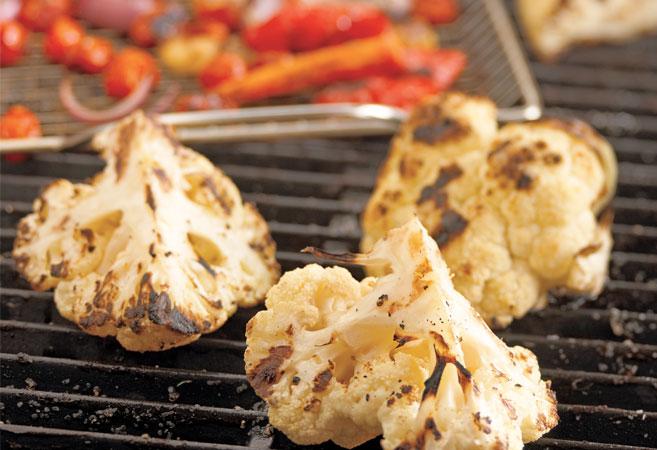 When you make Grilled Banana Boats with chocolate morsels and mini marshmallows (they're amazing), you'll discover a super sweet and gooey treat that everyone at your next cookout will love. It's also a tasty, and maybe slightly healthier alternative to s'mores when you throw a backyard camping party for the kids.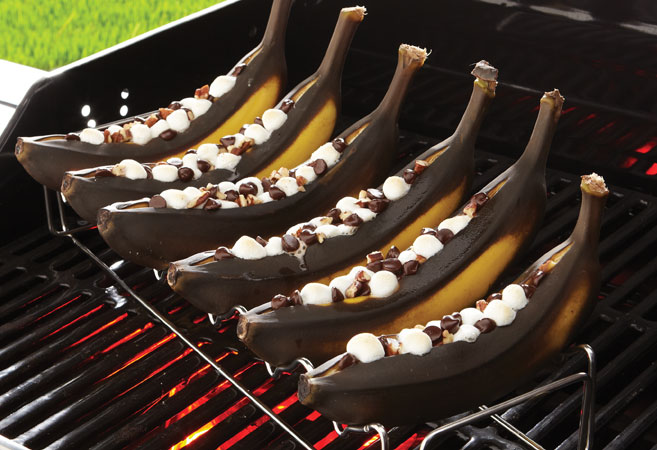 When it's cooked on the grill, this veggie becomes sweet, crispy, and infused with smoky goodness. All you have to do is cut the zucchini into ½" slices or planks and prep your grill for direct cooking over medium-high heat (about 400°F–450°F). Then, brush the planks with vegetable or olive oil and season them with salt and pepper. Cover the grill for 6–8 minutes, turning as needed, until dark grill marks appear. Grilled zucchini tastes great with grilled fish or on fresh summer salads.
Slice your watermelon into wedges, leaving the rind on—it will give you a place to easily grasp with your tongs to turn or move the fruit without damaging the flesh. Because of the high water content, you won't see deep char marks, but don't worry, grilling brings out a richer flavor in the watermelon. And, like watermelon, mangos are great on the grill, too!
Grilling polenta makes it tender in the center and crisp on the outside. Simply brush slices of polenta with 2 tbsp of oil and add salt and pepper to taste. Use direct medium-high heat on the grill. Place your polenta slices on the grill and cover 8–10 minutes or until you see grill marks. Stack them with grilled portabella mushrooms and heirloom tomatoes and top with mozzarella and basil. Delicious!
Like cauliflower, tofu is a notoriously bland food that you can transform on the grill. Marinate tofu with any flavors you like. Grill your marinated tofu on direct medium-high heat, covered, for 6–9 minutes until you see char marks.
Here's a grilling pro tip: Thread the tofu onto skewers to keep it from breaking apart when you turn it on the grill. Soak the bamboo skewers in water for 2 hours or overnight to keep them from burning.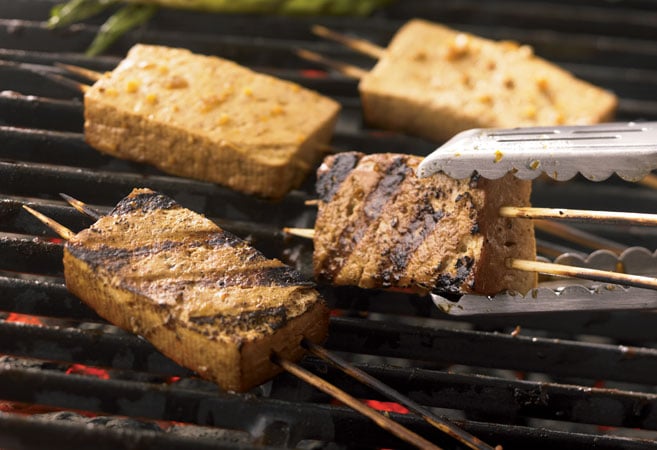 Meld all the amazing nachos flavors you love with added smoky depth when you make Grilled Loaded Nachos. Imagine how fast your friends will eat up layers of crispy tortilla chips, roasted veggies, and melted cheese at your next cookout. No need to turn on your oven this summer!
Watch how easy it is to make nachos on the grill.