Who wants to spend all morning chopping vegetables to make salads for lunch? Nobody! But with a little planning and the right tools, fresh salads can become a simple part of your healthy lunch routine.

Prepare your leafy greens, veggies, homemade salad dressing, and protein over the weekend. It might seem like a lot to do, but you'll spend less than an hour prepping. When you mix and match toppings every morning, it only takes a few minutes to craft a custom salad for the day. Here's how to get started.
Have Your Containers Ready
One of the coolest trends for packing salad is to use a mason jar. A jar makes it easier to keep your layers separate and a little fresher. You don't need lots of jars to do this. You could simply wash out your jar and use it the next day. Other BPA-free plastic or glass containers work well too—it's up to you.
You'll need a handful of leakproof containers to keep your prepped ingredients separated and organized in the fridge.
Make Dressing in Advance
Store-bought salad dressings can be full of undesired ingredients and preservatives. You can make homemade dressing in advance and make just the right amount. A great Italian dressing goes well with most salads. Store your dressing separately and add it right before you dig into your beautiful salad. The Make & Take Mason Jar has a dressing container built right into the lid.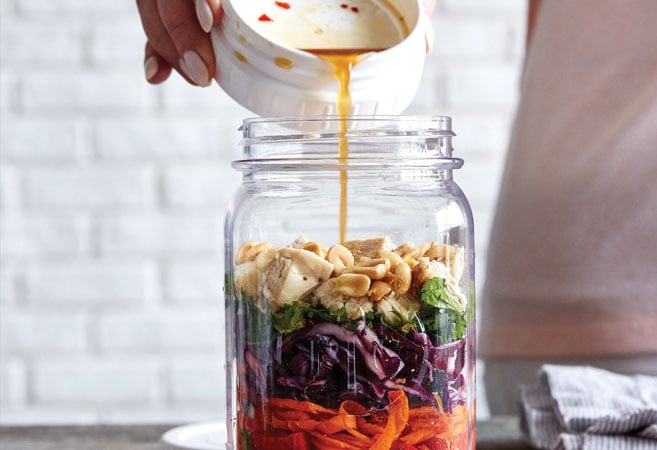 Gain Some Grains
Cook up whole-grain pasta or quinoa ahead of time and keep it stored separately for the week. If you layer your salad in a jar, add the grains or beans (like chickpeas or black beans) first. They can absorb some moisture from the vegetables layered on top of them.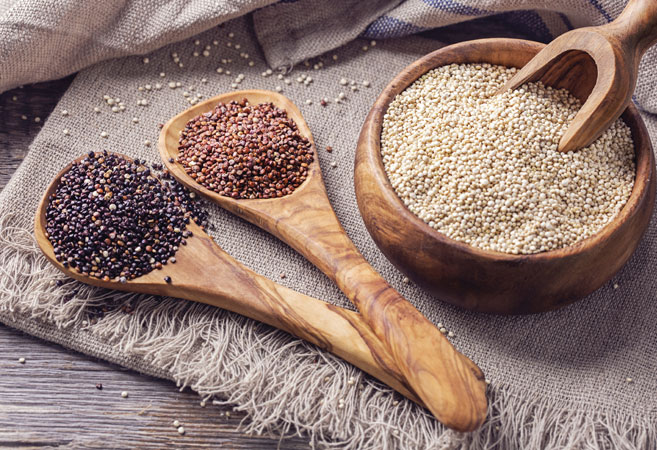 Chop Those Veggies
Prep them all at once to save time. Cucumbers, bell peppers, broccoli, and carrots will last the whole week in your fridge. Tomatoes, berries, and avocado don't last as long. Prep those ingredients the night before you pack them or that morning. (This will also keep your greens from getting soggy overnight.) You can also roast or grill up vegetables and use them all week. These tools make chopping veggies less of a chore: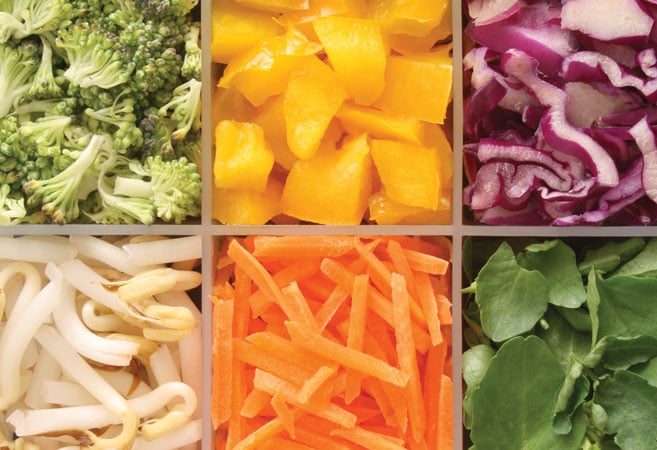 Get Your Greens
Greens should go near the top of your layered salad. Save money and buy your greens fresh, rather than in pre-washed bags. The bagged salads save time, but a salad spinner can also make quick work of cleaning and drying baby spinach, romaine, arugula, or kale. Dry salad is the secret to longer storage life in your fridge.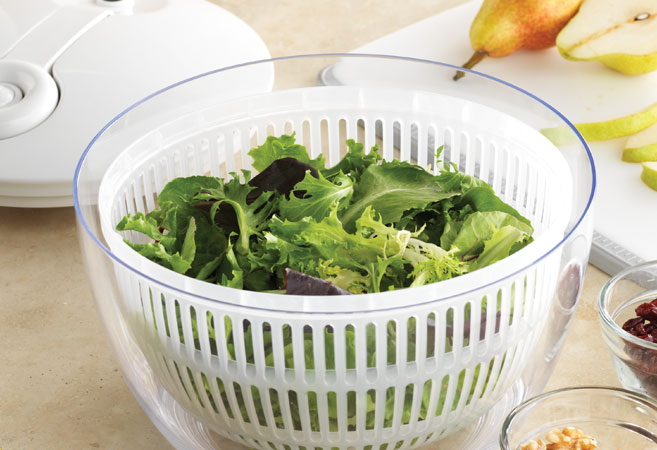 Add Some Crunch & Fun Flavors
Give your salad extra personality and taste. Granola, nuts, croutons, or even crushed tortilla chips can add satisfying crunchiness. Other tasty extras include dried fruit, olives, bacon bits, cheese crumbles, or fresh herbs. You can have all of these ingredients pre-chopped and ready to toss in.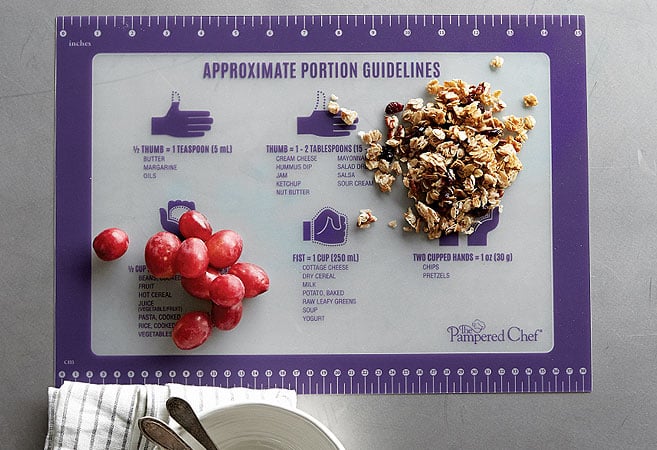 Pick a Protein
Adding protein to your salad will fill you up and keep you satisfied through the afternoon. Cook up a large batch of chicken, hard-boil some eggs, or slow cook pulled pork which you can store for three to four days. Tofu or shredded cheese can also give your salad a nice protein boost. It's best to top your salad with protein the morning you make your salad.
---
See the best way to layer a salad here.
Need recipe inspiration? See the chart to pick your ingredients.