Cooking well-balanced, nutritious meals that satisfy everyone at the dinner table can be difficult when schedules get busy, but there are a few things you can do during food prep that can save you time, money, and effort throughout the week. Here are seven ways you can make cooking during the week faster, simpler, and healthier when you prep ahead of time.
1. Freeze fresh herbs in small portions. Chop fresh herbs in advance and then freeze them in an herb freezing tray for easy access when you're ready to make dinner. Heat up what you need for each meal and save the rest for later in the week.
2. Save and store extra pasta sauce. Make pasta sauces ahead of time and freeze them in leakproof containers. Thaw them the day you'll use them and cook your favorite noodles. It's an Italian feast in no time. Serve with a side dish of steamed vegetables or a fresh, tossed salad to balance out the carbs.
3. Get creative with side dishes. Side dishes are an easy way to change up your routine. Pair a protein with a new healthy side dish, and suddenly weekday meals aren't so predictable. You can easily steam vegetables or rice in a micro-cookers, or you can make carrots a little more savory (try these Buttery Dill Carrots) while still getting much-needed nutrients.
4. Freeze vegetables, too. Freezing and saving for later is the epitome of all weekday prep planning, and you can parboil root vegetables and then freeze them. Toss them with olive oil and put them under a broiler on a sheet pan the night you need them. They'll be ready to serve alongside your chicken or fish in a fraction of the time.
5. Turn side dishes into main dishes. Yes, you can always swap sides like white rice for healthier vegetables like cauliflower, but you can easily turn a hearty vegetable like cauliflower into the main ingredient. This Hawaiian Fried Cauliflower "Rice" works great as a side dish or a meal, and cauliflower steaks are a quick and easy option, too.
6. Stock up on homemade chicken stock. Chicken stock from the store is loaded with salt and preservatives, and soups and stews are much more flavorful when made with homemade chicken stock. Freeze chicken bones and then use them to make stock in the Rockcrok® Dutch Oven by adding water, celery, carrots, onions, and parsley. Cool the broth, skim the fat off the top, then strain the liquid. Use it in soups, like any one of these four fast, flavorful, one-pot recipes.
7. Jar fresh, homemade minced garlic. So many recipes call for garlic, and you can save a lot of time by jarring your own fresh minced garlic at home. Chop garlic using a food chopper, put it in a glass jar, and cover it with olive oil to store in the fridge. Use it when you're ready to make easy weekday recipes.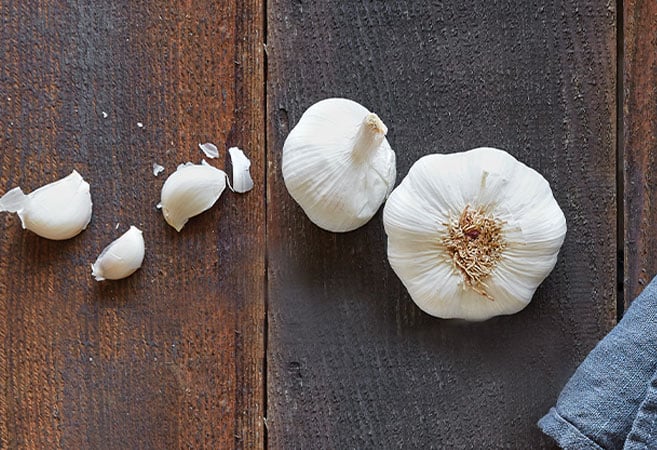 What do you do in your kitchen to cut down on prep time, eat healthier, or save money? Share in the comments below!
---
Read More Stories Like This:
---