St. Patrick's Day is coming up soon, and it's time to start thinking about all things Irish! Whether you're throwing a party or simply embracing the day with yourself and your family, why not bring a little bit of Ireland to your table with some traditional Irish dishes? This year, go a little deeper than adding green food dye. Here are four classic Irish recipes that you can easily incorporate into your St. Patrick's Day menu:
1. Irish Soda Bread
"Historically, soda bread has been a staple of the Irish diet."
Soda bread became popular in Ireland because it was simple to make and required only a few inexpensive ingredients—including soda, a cheaper alternative than yeast which caused the bread to rise. During tough times in Irish history, such as the potato famine, soda bread was often a family's main or only staple.
Start your soda bread with four ingredients—4 cups (1 L) all-purpose flour, 1 tsp (5 mL) baking soda, 1 tsp (5 mL) salt, and 14 oz. (410 g) buttermilk. Combine the dry ingredients and then gradually add in the buttermilk until it reaches a doughy consistency. Knead it lightly, then place it in a round cake pan. Cut a cross onto the dough, then cover it with another pan and bake it for 30 minutes at 425°F (218º C). Remove the cover and bake for an additional 15 minutes until the top develops a crust, and enjoy!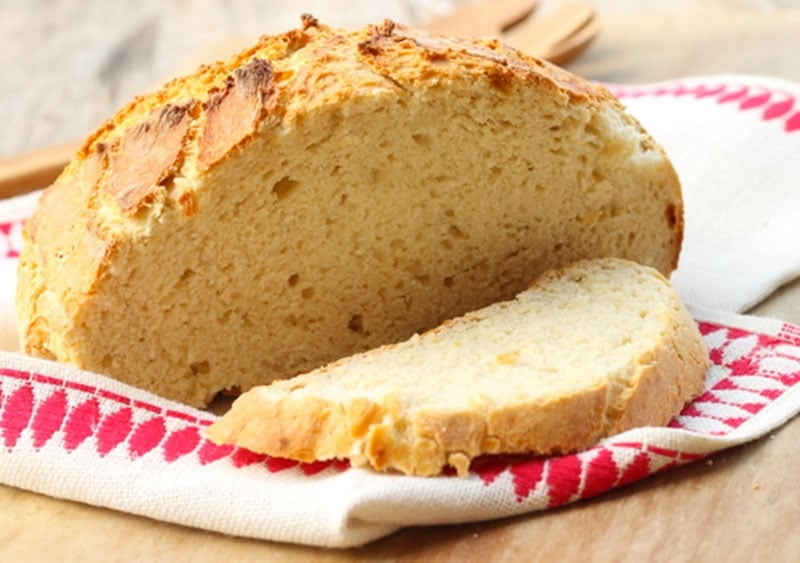 You can also modify this recipe—in fact, most versions today feature dried fruit, citrus zests, and other ingredients that make the dish a little more decadent. If you're interested in diving into a historically accurate, simple and surprisingly tasty bread this is the recipe for you!.
2. Potatoes
No Irish meal is complete without potatoes in some form. Boiled potatoes are a traditional Irish side dish, and they're easy to prepare, but can be a bit bland, so make sure to add flavor!
Start with small gold potatoes. These have thin skins and a slightly sweet flavor, which makes them better for this kind of preparation, as they'll absorb more flavor through their skin. Cut the potatoes in half and drop them into a pot of salted water heated to a rolling boil. Add in two cloves of garlic and a bay leaf, and let the potatoes cook for about 15 minutes.
Strain the potatoes, remove the bay leaf and garlic cloves, and toss them in some melted butter. Season with salt, pepper, and other spices to taste. 
3. Corned Beef
Aside from potatoes, corned beef is one of the most iconic Irish dishes. It's a beef brisket that has been cured with a salty brine and can be served warm or cold.
To make this classic Irish recipe, you can boil the brisket or use a slow cooker for more tender meat.
Try this easy Corned Beef Hash recipe perfect for serving up Irish inspired brunch.
If you have any leftover meat, you can use it to make Corned Beef Puffs to get your corned beef fix in bite-size form!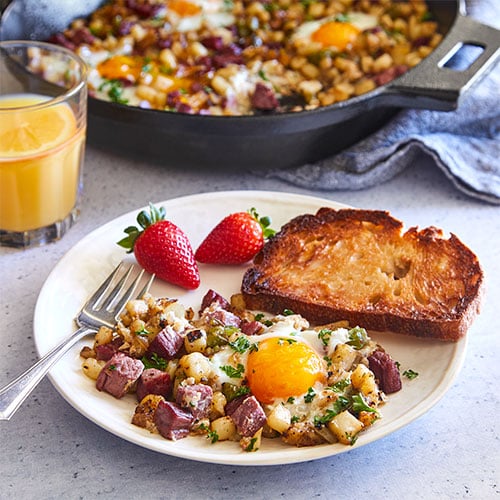 4. Irish Whiskey Cake
For a sweet ending to your St. Patrick's Day menu, try Irish whiskey cake. It's a simple cake made with yellow cake mix and a little bit of whiskey! Prep a box of yellow cake mix according to the instructions, and add ¼ cup (60 mL) warmed whiskey into the mix.
As the cake is baking, make a glaze for topping: Mix ¼ cup (60 mL) each of whiskey, butter, and water, plus ¾ cup (175 mL) sugar in a small saucepan. Cook over low heat until everything is fully dissolved. Let the cake cool before you drizzle the glaze over top!
Keep in mind that this is a boozy cake, so if you're cooking for kids or anyone who doesn't drink, you may want to make a whiskey-less version as well. Though some of the alcohol will be cooked out during the baking process, there will be a fair amount left behind!