Blenda used to approve food stamp applications for the state of Georgia. At the time, she never thought that she'd end up on the other side of the desk, in need of help.
"At first, I was embarrassed to ask for help," Blenda said. "I'm 64 years old and have never asked for any type of assistance." Blenda had enough money to care for herself, but when she was given guardianship over her two grandchildren, Aaron and Carson, her financial situation suddenly changed.
Blenda knew proper nutrition is vital to the growth and development of children and quickly realized her full-time job and retirement savings weren't going to be enough to feed two growing boys. She made her dollars stretch when school provided free breakfast and lunch. But as the school year ended, she wondered how she'd cover those two extra meals.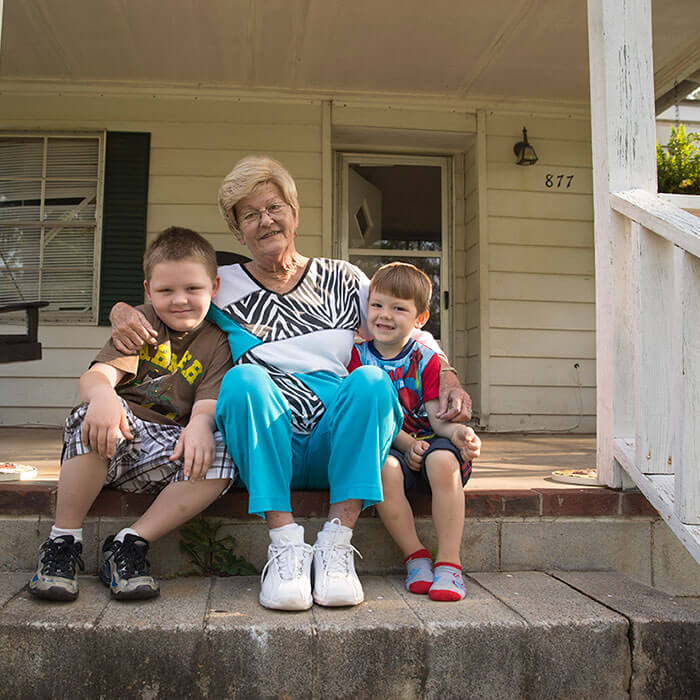 Summer: The Unexpected Hungry Season
Many of us think of donating to food banks and meal programs in the fall and winter months, especially around the holidays. But for the 42 million Americans—including one in six kids—who don't know where their next meals will come from, summer often marks the start of a hungry season.
Help That Made All the Difference
Blenda knew she had to do whatever it took to keep her boys from going hungry.
"This was beyond me. It was about my grandchildren eating." She sent her grandchildren to a summer program, sponsored in part by Golden Harvest Food Bank, a Feeding America® member food bank. The program provided them with free breakfast, lunch, and even occasional bags of food to take home on the weekends. Places like this all over the country benefit from Pampered Chef's contributions to Feeding America®.
"The help made all the difference," Blenda said.
---
2 Ways You Can Fight Summer Hunger
This year, you can help families like Blenda's all over the country through Pampered Chef's philanthropic causes. You can:
Round up your order. When you round up your order, 100% of your contributions benefit your local area Feeding America® member food bank—helping people in your community who are struggling with hunger.
Host a fundraiser party to make a bigger impact. When you have a Feeding America® fundraiser party, up to 15% of the total sales will be contributed to the Feeding America® national office.
* $1 helps provide 11 meals secured by Feeding America® on behalf of local member food banks. Pampered Chef® guarantees a minimum donation of $250,000 through the purchase of select Pampered Chef® products and other fundraising activities associated with the Round-Up from the Heart® campaign from Sept. 1, 2016–Aug. 31, 2017. Meal claim valid as of July 1, 2015.