Talking to your children about social issues like hunger can be difficult, but it's important. In the United States alone, 41 million people face hunger, according to Feeding America®, the country's largest domestic hunger-relief organization. More than 13 million Americans facing hunger are children.
Before starting a conversation with your children, find out what they already know about the topic. A simple, "What have you heard?" lets them share what they understand and what concerns they might have. (Do we have enough food? Could we go hungry some day?)
Offer reassurance and keep your answers simple and age-appropriate. Explain that people face hunger for many reasons and for different amounts of time. If you or your children have unanswered questions, visit Feeding America® to learn more.
The good news is that when it comes to hunger, you and your family can make an impact in your community.
Here are seven ways you and your family can help:
1. Let your children lead.
Get your children involved when the family is deciding what monetary donations you might make. If a birthday or holiday is coming up, give each child the choice to donate gifts or the money you would have spent on gifts to a cause they care about.
2. Volunteer.
Sign up to prepare and serve a meal together at a local meal program, or collect food for the community food pantry. Your children will see the effect of their hard work and get to know people impacted by hunger.
3. Have a lemonade stand.
Help your kids set up a lemonade stand in your neighborhood. They can also sell treats like cookies, brownies, and other baked goods to earn more. Once it's over, donate the earnings to a local food bank.
4. Turn a playdate into a food drive.
Plan a playdate and have the families bring a non-perishable food item to donate. It'll get your child and their friends excited about helping others.
5. Plant a family garden.
Start a small garden in your yard and collect food to donate to a local food pantry. Tending a garden can also teach children about where their food comes from, encourage healthy eating, and teach responsibility.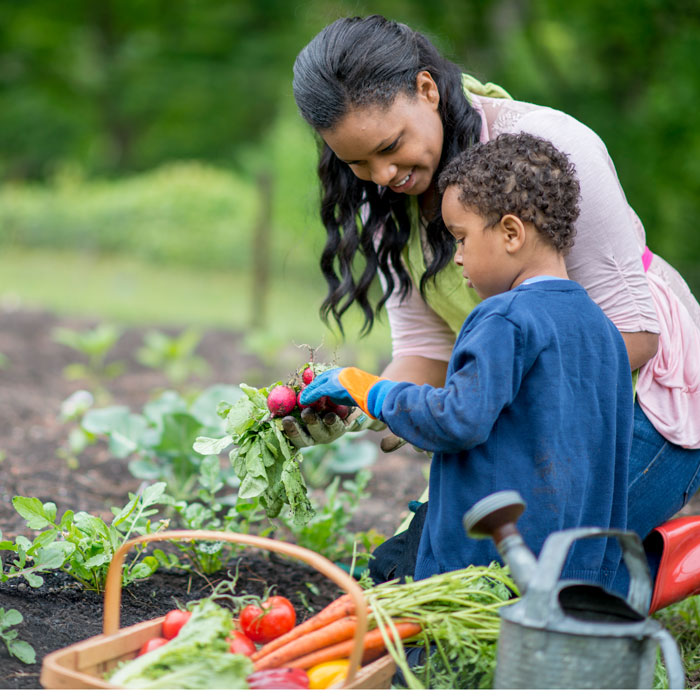 6. Start a collection jar.
Invite your children to decorate a jar or container and place it somewhere to collect spare change. Let them help decide where the donations should go once it's full.
7. Create a gratitude collage.
Talk about what you and your child are grateful for. Help your child understand that not all children have the same things and opportunities. Then, craft an "I'm thankful" collage based on your talk.
---
Do you like this list? How do you get your family involved in giving back? You can receive a Family Action Plan which includes tools to organize fundraisers and more helpful resources on Feeding America's website. Did you know you can host a fundraiser party through Pampered Chef to support any cause you care about including your local food bank? Talk to your consultant to learn more about fundraisers and our Round-Up from the Heart® program.