Easter eggs are an essential spring tradition. Dyeing eggs (and hunting them) makes a fantastic activity for the whole family. However, it can get a little chaotic and messy.
Here are a few basics you'll need to give everyone a memorable Easter craft project that won't totally destroy your kitchen. Plus, get some nifty tips on storing your eggs and clever ways to eat them. (Warning: There will be terrible egg puns!)
Hard-Boiled Eggs
Place 12 large eggs in 8-qt. stockpot; add enough cold water to cover the eggs about 1 inch. Quickly bring water just to a boil. Remove the pot from the heat. Let eggs stand, covered, for 20 minutes.
Immediately run cold water over the eggs or place them in ice water until they're completely cooled. This prevents that ugly greenish ring from forming on your eggs. Eggs-traordinary!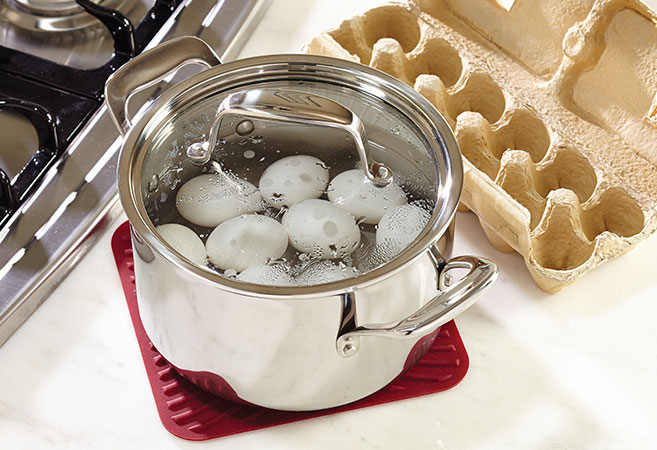 Egg Dyeing: Classic Solid Colors
Prepare egg dye in six 1-cup Prep Bowls following the directions on your Easter egg color kit (typically one tablet in each bowl) or on the food coloring package. Using a slotted spoon or the Mix 'N Chunk, lower one hard-boiled egg into the dye of your choice, rolling the egg around in the bowl. Remove the egg and let it dry.
Egg-cellent tip: Line a rimmed Sheet Pan with a few layers of paper towels for drying the dyed eggs. This gives the eggs a flat drying surface, and they won't roll way.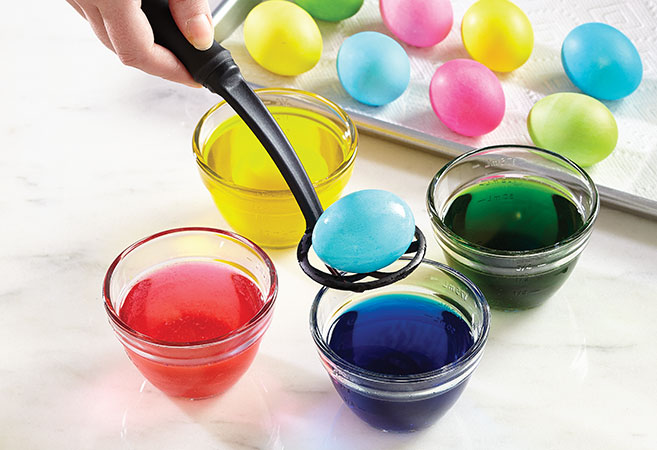 Egg Dyeing: Tie-Dye Eggs
Dye hard-boiled eggs as described for the classic solid colors. Let your eggs dry completely. Then gently stir in ¼ tsp of vegetable oil (if you're using a kit) or ½ tsp of vegetable oil (if you're using food coloring) into the remaining dye in your bowls. Immediately dip the egg into the oil mixture to coat. Remove the egg and let it dry completely.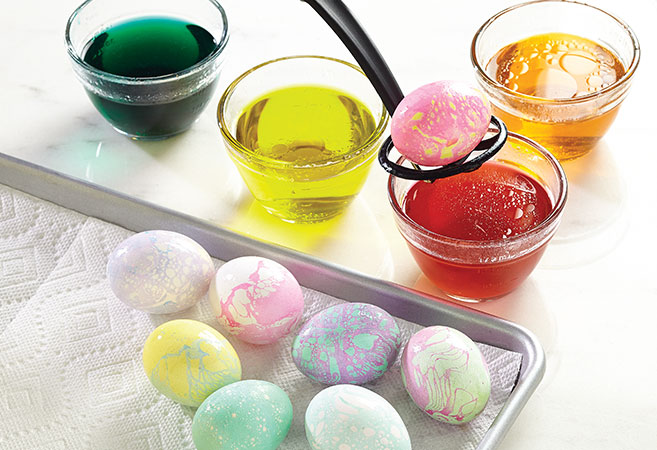 How to Easily Peel Eggs
Nothing is more frustrating than picking tiny bits of shell off your beautiful hard-boiled eggs. There are lots of methods out there, but here's what we've found in the Pampered Chef test kitchens that works the best. The results are egg-ceptional.
Start with eggs that are 7–10 days old for the best results.
Keep your eggs cold once they've finished cooking.
Gently tap the egg on the countertop until the shell is finely cracked all over.
Roll the egg between your hands to loosen the shell.
Hold the egg under cold running water to help ease off the shell.
Start peeling at the larger end of the egg.
Egg Safety & Storage
Remember 1-1-2 to enjoy your hard-boiled eggs safely.
1 WEEK: Keep hard-boiled eggs in their shells, stored in an airtight container in the fridge.
1 DAY: Once you peel 'em, eat 'em that day.
2 HOURS: Refrigerate hard-boiled eggs within two hours of cooking.
Is it Safe to Eat Dyed Easter Eggs?
The simple answer is yes, BUT you should follow a few basic safety guidelines. First, use food-safe dyes on your eggs. Don't eat the eggs if the shells crack during the cooking or egg-dyeing process. You can hunt for your colored eggs or display them, but if they've been sitting out at room temperature for two or more hours, throw them out.
Eleggant Egg Recipes
Turn your hard-boiled Easter eggs into wow-worthy appetizers to kick off your spring meal.
The Smoked Salmon Deviled Eggs recipe is an elegant twist on classic deviled eggs. The combo of dill weed and smoky salmon in the creamy egg mix is a crowd-pleaser.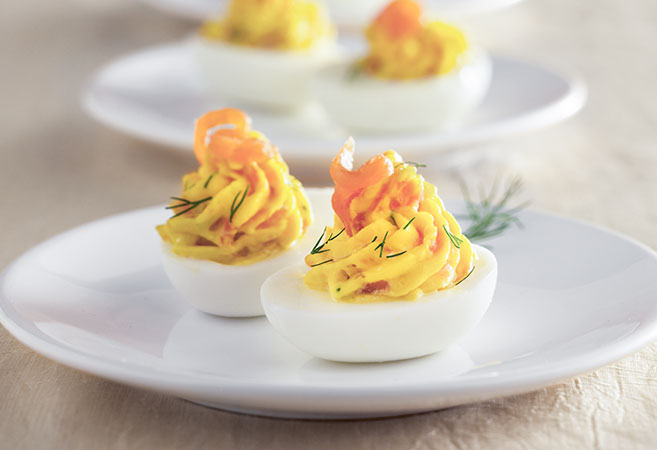 This chic (or chick) Deviled Chicks recipe is a creative take on any family-favorite deviled egg recipe. The kids will especially love this cute snack. Use little bits of black olive for the eyes and carrot pieces for the bitty chick beaks.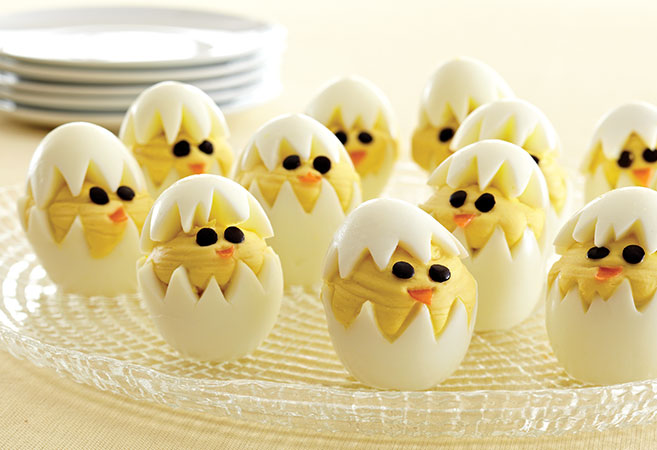 Egg Salad is another easy, delicious use of your abundant hard-boiled eggs around Easter. We love ours with chopped celery, pickle, red pepper, Dijon mustard, and mayonnaise. Serve it in small amounts on crackers and arrange on a beautiful tray to make it fancy.