You might have noticed a growing taste for world flavors with the rise of Sriracha sauce. Maybe you've seen Sriracha mayo or Sriracha-flavored chips popping up on your grocery store shelves.
As this food trend has expanded to include things like harissa sauce, shawarma, and pad thai, the Pampered Chef Test Kitchens set out to understand why global tastes are so popular and how they could make world flavors more accessible to home cooks.
Why Are World Flavors so Trendy?
"I always wanted to know why," said Food Trend Innovator Sandy Wolner. "We were seeing new flavors like harissa sauce everywhere—on blogs, in magazines, and in restaurants. It was everywhere."
The Test Kitchens did some digging and found three reasons the global food trend is so popular:
People are traveling more and want to recreate their travel memories at home.
People who can't travel still want an easy and affordable way to experience another culture.
Multicultural populations are growing across the world.
"Cooking is an experience today," observed Sandy. "It's not just a chore every night. These foods create an experience."
You Can't Deny Harissa Sauce.
"Harissa sauce has become the new Sriracha," said Sandy.
Harissa is a staple condiment in North African cooking, like hot sauce. The garlicky paste adds depth to all kinds of meat and vegetable dishes like couscous, soup, and pasta.
"Our goal was to make the cuisine accessible and friendly. We're using the most widely available ingredients and putting them together in a way that shows off how our cooking tools really help you get it done," Sandy said.
Getting the Flavor Right
Sandy explained their first goal when developing a recipe is to get the flavor right. Harissa sauce usually includes dried red chilies, garlic, salt, olive oil, coriander, caraway seeds, and sometimes cumin and dried mint.
"We don't want people to buy a lot of spices for one recipe," Sandy explained. That's why Test Kitchens' sauce in Easy Harissa Chicken Dinner only calls for a 12-ounce jar of roasted red peppers, one chipotle pepper in adobo sauce, tomato paste, a pressed garlic clove, olive oil, and ground coriander—ingredients many home cooks have available.
"The recipe is beautiful, it's easy, and it really spotlights the Rockcrok® Grill Stone, which lets you bake and broil in one pan," Sandy explained.
Cooking with Chipotle
Even though this shortcut uses chipotle in adobo sauce, an ingredient that's usually associated with South American cooking, it's easy to find in most grocery stores. It also replicates the bold, complex flavors harissa needs without raiding the entire spice aisle.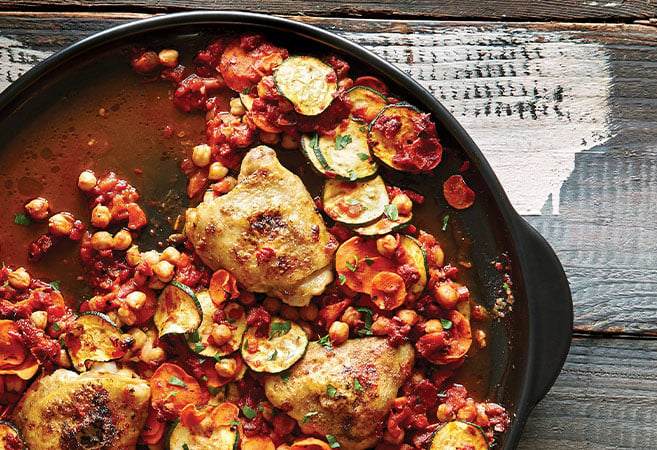 Shortcuts to Shawarma
To recreate this popular Middle Eastern street food traditionally made with shaved meat from a spit, Pampered Chef's Test Kitchens started with a complex recipe and found ways to make it simpler.
Shawarma (pronounced "sha-war-ma") is a wrapped sandwich served with fresh vegetables and usually a sauce like tahini or hummus, but sauces very regionally.
"We nail down the flavor first, then work on the timing and the steps it takes to put the recipe together," said Sandy. "There were tons of great recipes out there, but we wanted something doable and approachable."
For example, while developing the Grilled Chicken Shawarma Wrap, there were originally two sauces: one to marinate the chicken and a serving sauce for the naan. "To save time and the number of ingredients, we used some of the same flavors from the marinade in the naan sauce," Sandy revealed. The Double Burner Grill Pan also saves time because you grill the chicken and the naan (or pita bread) at the same time in one pan.
How to Use Coriander
One of the key spices in the marinade is ground coriander. The spice also makes an appearance in the harissa recipe, and that's by design. "We don't people to buy a huge bottle of spice for just one recipe," Sandy explained.
Coriander is actually the seeds of cilantro and is used in cooking all over the world. When ground, the seed's nutty aromas are more distinct. The longer the spice is cooked, the deeper the flavor gets.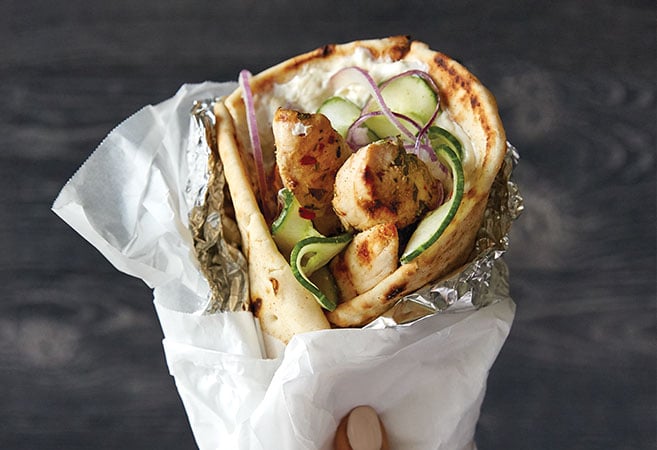 Pad Thai Made Easy
"Who ever thought they could make pad thai at home?' Sandy asked excitedly while discussing this common carry-out staple from Thailand.
A traditional pad thai calls for tamarind. It's the pulp of pods from the tamarind tree that are used as the base for savory dishes and condiments in Middle Eastern, Mediterranean, and Asian cooking.
Pad thai also calls for fish sauce. These two ingredients are particularly problematic for home cooks to find. The Test Kitchens got around these tricky ingredients by using nut butter, lime juice, soy sauce, ginger, and honey for their sauce in the Chicken & Sweet Potato Pad Thai.
A big advantage to making pad thai at home is controlling the calorie count. Sandy shared that pad thai is a comfort food—one that often has 1,400 calories a serving. "When you cook it for yourself, you can control what you put into it," Sandy said. She's proud that the Test Kitchens' recipe is only about 410 calories a serving (about 1¾C/425mL) thanks to all the veggies and sweet potato noodles made with a Veggie Spiralizer.
How to Use Ginger
This root is often used in Asian cooking, but its intense, slightly spicy flavor with a touch of sweetness makes it perfect for a wide range of dishes, from meat marinades to desserts. When pressed or grated, it gives a warm kick of flavor.
Conclusion
Next time you're ready to reach for the carry-out menu or looking to jazz up your evening dinner, consider creating a global experience in your own home. The work has already been done for you by Pampered Chef's innovators!